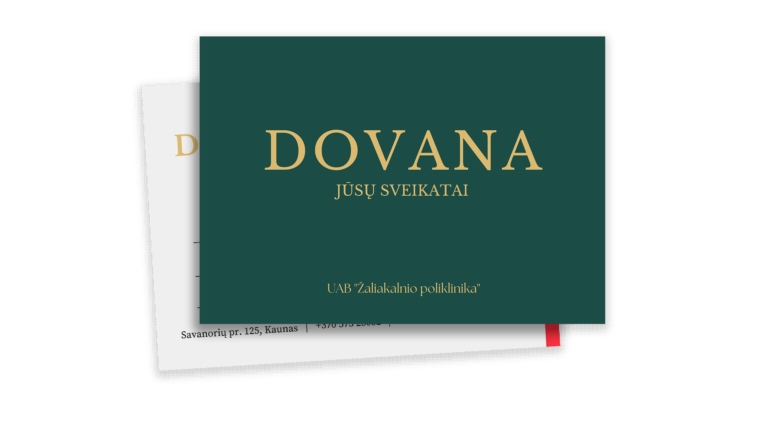 Health is the greatest gift a person can receive, and it's best when you can to give. Take care of the health of your loved ones - give them a gift Zaliakalnis Polyclinic gift voucher!
Gift vouchers can be purchased for any amount of money or for any service provided by Žaliakalnis Polyclinic.
Purchase a gift voucher for Zaliakalnis Polyclinic UAB, which will allow you to to purchase paid services of the polyclinic:
Blood tests;
Research programmes;
Dental services;
Oral hygienist services (professional oral hygiene, off-office teeth whitening with the Beyond Polus Advanced system, etc.);
Aesthetic medical services;
Gift vouchers with cash value.
How to buy a gift voucher:
You can book an appointment at the clinic.
It is available online for the amount you choose:
*If you would like to purchase a gift voucher for a different amount, please contact us at viktorija@zaliakalniopoliklinika.lt
The Žaliakalnis gift voucher (hereinafter referred to as the "Gift voucher") confirms prepayment and entitles the holder of the gift voucher to use it in accordance with the procedure set out in these Rules to pay for any of the services provided by the Žaliakalnis polyclinic.
The gift voucher is valid for 3 months from the date of issue. The Gift Voucher can be extended. Price - €10.
Gift vouchers are not redeemable for cash.
If the cost of the services provided is higher than the value of the gift voucher, the shortfall can be paid in cash or by bank card.
If the price of the services provided is less than the price on the gift voucher, the remaining amount is not refundable.
Once the gift voucher is presented for payment, it is collected and
non-refundable. You can only pay once per gift voucher, after which the voucher is void.